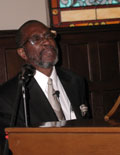 Welcome to the Santa Clara County Council of Churches web site. We are building this new site from the ground up and we need your help with stories, photos, links, and more. The web address will remain the same, www.councilofchurches-scc.org

Are you looking for a church to attend? Check out our Member-Congregations area. Are you curious about our mission, our staff, or our board? Visit the About Us section. Do you want the latest news from the Council and member congregations? Visit the News area!

There's a lot happening in Santa Clara County. Check out the latest events by visiting our events area (and you can even add an event to the calendar).

Click "read more" below to read more about the Council.


The Purpose of the Council of Churches of Santa Clara County is to be the ecumenical presence in the county.

The Mission of the Council of Churches Is to serve as a catalyst for its members as they act locally:

To strengthen their ministries; To support each other; To provide moral leadership for meaningful social change.

We encourage you to contact us and our member congregations! Become involved! There's lots to do and great ways to grow in your faith. Thank you for visiting the Santa Clara County Council of Churches web site.